If you did not know by now, you actually can claim not just your car dealership's Google My Business listing, but you can also claim each of the individual departments like parts and service. Doing this will help customers distinguish between the various departments at your dealership, and allows you to choose the correct hours for each department, since many dealerships have different hours of operation for sales and service.
Now there is a right way, and a wrong way to claim your dealership's listings. Thankfully Google support offers a clear tutorial on how to claim your dealers GMB listing.
The next step is to figure out how to properly claim your service and parts department listings. 
For a while in 2020, Google admitted to a bug where your service or parts departments would outrank your main dealership listings in maps and for branded searches. This problem was thankfully resolved months later, and since, the department listings are working as intended.
You will want to first discover if there are already department listings created for your dealership. Sometimes Google will generate listings, or the OEM will issue the creation of the department listings. In which you will need to contact FordDirect, FCA, etc. to have them pass ownership to you.
Search for your dealership by brand name, then zoom in and see if there is a service or parts department listing already there.
If there is one already created, but you do not manage the listing, or nobody from the dealership has ownership of the listing, you can click "Own this business?".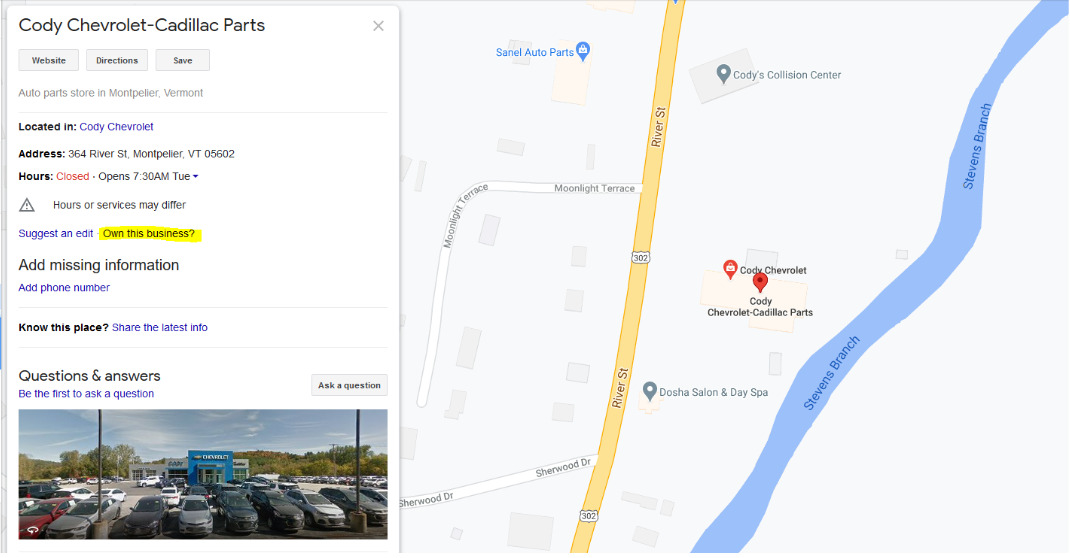 Next, you will want to click Manage Now, and from there, just follow the steps prompted by Google.

Once you get to the point of choosing the categories for your service or parts department listings there are a number of categories and subcategories to choose from.
Here is a list of the top categories to choose from for your service department:
Auto repair shop
Auto tune up service
Mechanic
Car repair and maintenance
Truck repair shop
Oil change service
Brake shop
Car inspection station
Transmission shop
Wheel alignment service
Now these are not in any specific order, but at a minimum you will want to add the categories that are in bold font, as those tend to be the most popular in terms of search interest.
Now for your parts department, there are about ten or so categories you could choose from. Here are a list of those categories you should add to your parts GMB listing:
Auto Parts Store
Car accessories store 
Car battery store (might be the most searched car part to replace)
Truck parts supplier
Racing car parts store
Auto body parts supplier
Tire shop (a popular part that is searched, just like batteries)
Used tire shop
Muffler shop
Truck accessories store (great if you have plenty of trucks or custom trucks)
Auto sunroof shop
Then if you do have a collision and repair center, here are a handful of categories you can consider adding to help capture some of that local search:
Auto body shop
Auto bodywork mechanic
Auto dent removal service
Auto glass shop
Auto painting
Since most dealerships tend to have a collision and repair center with its own website, it would be best to create and claim a separate business listing on Google for it. This will help ensure that traffic intended for the collision and repair shop are sent to that site with a better rate of conversion, instead of forcing the user to bounce between multiple websites.
Once you have your categories selected, it is now to make sure you add the proper URLs to your service scheduler and parts department pages. If you wish to track and gauge how each department listing is performing in Google Maps and on the SERPs, then you should consider adding a UTM parameter to the end of the page you wish to add.
For example your service schedule page is the following /schedule-service/. You should then look to add the following utm parameter to the end of that page:
?UTM_source=GMB_Service_listing&UTM_medium=organic
So, your final link to add to your service department should be the following:
/schedule-service/?UTM_source=GMB_Service_listing&UTM_medium=organic
For parts, you just simply swap out the _Service_ for _Parts_.
When you add these parameters you may see an instant jump in organic clicks on Search Console and Google Analytics. This is because you are now able to properly track all the organic search impressions and clicks that not just your website is receiving, but each of the GMB Listings as well. This is very important to understand with the Zero Click Trend, which has become a growing trend with mobile search.
Ultimately, Zero Click Trend means when a user searches for your car dealership brand name, instead of clicking on your website, they instead will just ask for directions, click call on GMB, or just want to see what the hours of operation are. So, instead of using your website to obtain the information they need, they receive that information on the Google Knowledge Graph (as seen below), or on Google Maps.

Final Thoughts
Your Google My Business listing(s) are in a way an extension of your website. So, it is incredibly important that the information you put on those listings are correct. That you have claimed your service and parts departments, and you list the categories that best align with that department.
It is also important to update those listings for unique holiday hours, respond to reviews and post photos of the departments.
Lastly, you will want to make sure you properly track the performance of each listing. Google has rolled out an improved insights dashboard, but that is still very much in the works. So, for now you need to add UTM parameters that will help you track each impression and click for all of your listings.
Related Article: How to Optimize Your Google My Business Listing